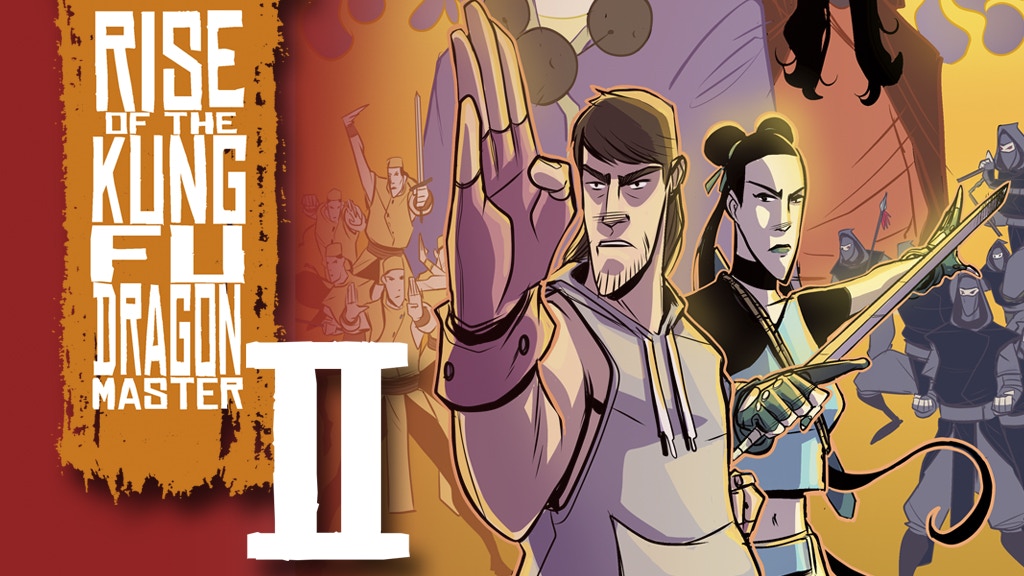 WHITE CAT ENTERTAINMENT LAUNCHES KICKSTARTER FOR CHRIS MANCINI AND FERNANDO PINTO'S "RISE OF THE KUNG FU DRAGON MASTER" SECOND VOLUME
LOS ANGELES, CA — White Cat Entertainment is releasing Rise of the Kung Fu Dragon Master VOL 2, a 100-page graphic novel follow up to VOL 1, which was just completed following a successful Kickstarter campaign. It is the follow up project to writer Chris Mancini and artist Fernando Pinto's first graphic novel together, Long Ago and Far Away, which was released digitally in 2019 from Starburns Industries Press. 
Rise of the Kung Fu Dragon Master is a comedy/action/fantasy graphic novel about Rick, a small-time crook in Los Angeles who becomes an unlikely hero in a mystical battle between good and evil that has been fought since the days of Ancient China. It's a love letter to the 80's action, buddy, and comedy movies Chris Mancini grew up on. Along with the action/comedy, the story explores the self-destruction a life of anger and violence can bring, and how to follow a new path that can lead to peace and balance. But, even so, the book features epic martial arts fights, fantastic creatures, and surly baristas. 
 "I love mixing genres, and I thought about how cool it would be to mix martial arts, fantasy and comedy in a modern way that also explores contemporary attitudes towards masculinity, violence, and our personal relationships," creator/writer Chris Mancini said. "I wanted to tell a big, fun story, where you're laughing one minute, thrilled by the action the next, and then surprised by a thoughtful character moment."
In addition to being a stand-up comic and podcaster, Chris Mancini has also written, directed and produced on everything from soap operas to parenting books to horror films, which are all more closely related than you think. His feature films include Asylum from Lionsgate Films and Ear Buds: The Podcasting Documentary from Comedy Dynamics. His published works include Pacify Me: A Handbook for the Freaked Out New Dad from Simon and Schuster, The Comedy Film Nerds Guide to Movies from Morgan James, and Long Ago and Far Away, a graphic novel from Starburns Press and Studio, who are also developing it into a TV series. 
Fernando Pinto is from Chile. He graduated the Kubert School in '04 and has worked as a sequential artist ever since. Some of the other comics he's worked on include Tales of the TMNT, Moon Lake vol. 2, Hack Slash, Monarchs, Eat Fighter, and his own books Warped! and GunPunch, among others. Also working on the book are editor Brian Augustyn (The Flash, Gotham by Gaslight) and A Larger World Studios (Marvel, DC, Dark Horse)
The Rise of the Kung Fu Dragon Master VOL 2 Kickstarter launches August 1 and continues through September 5. Backers can score all sorts of cool digital and physical rewards, including the entire Mancini/Pinto digital library, over 500 pages of content. Other rewards include getting drawn into the book and being listed in the Temple of the Dragon. Add-ons include Rise of the Kung Fu Dragon Master Vol 1 and Long Ago and Far Away, for new backers. The goal is $8000, the same as Vol 1 which was successfully funded.
"Outer Worlds. Inner Journeys."
White Cat Entertainment is a content company that focuses on genre storytelling with an emotional core across multiple mediums including comics, podcasting, film, and books. 
CONTACT INFORMATION
Inquiries regarding interviews, review materials, licensing opportunities, or general information should be pursued using the below information.
Contact Info:
Chris Mancini
https://www.whitecatentertainment.com/
Social Media Info: 
Twitter
FB